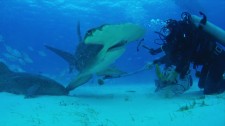 EIMI partners with Bimini SharkLab to custom design an underwater ultrasound system to determine pregnancies in hammerhead sharks.
Loveland, Colorado, July 26, 2017 (Newswire.com) - E.I. Medical Imaging (EIMI) has partnered with Dr. Tristan Guttridge and the Bimini SharkLab to custom design the worlds first ultrasound system to be used underwater to produce diagnostic images of sharks in their native habitat. In preparation for a piece produced by Icon films for Discovery Channel's Shark Week, Dr. Guttridge approached EIMI with the idea of an underwater ultrasound system to take pregnancy diagnosis directly to hammerhead sharks underwater.
EIMI produces portable, highly ruggedized ultrasound systems for veterinary use.  While highly water resistant, their production models were never designed to be used underwater.  When Dr. Guttridge approached EIMI with the idea of waterproofing a system to support the project "Great Hammerhead Invasion," the engineering team at EIMI took up the project with great excitement. "They loved our crazy idea of attempting to ultrasound a great hammerhead in Bimini!" said Dr. Guttridge.  Designing an ultrasound system to operate underwater held many engineering challenges.  To operate at the depths required for Dr. Guttridge's work was especially challenging.
Being land-locked in Colorado also posed some logistical testing challenges.  The team at EIMI worked on the first iteration of the submersible system and shipped the system to the Bahamas for Dr. Guttridge to test.  "We design products to perform in the harshest environments- above the waterline.  When you factor in water pressure at depth and salt water, now that is a whole different story," says EIMI President Charles Maloy.  The unit performed as intended and allowed Dr. Guttridge to capture the underwater images of pregnant hammerheads he needed to validate his theory on hammerhead breeding patterns.  "Since then we have managed to detect pregnancies in two other species - lemon and tiger sharks. Such information is crucial as we can begin to learn more about the importance of Bimini's environs to gestating females and coupled with satellite tags track where they might pup," said Dr. Guttridge. 
This is certainly not the first time EIMI has partnered with shark researchers to support marine conservation efforts.  Last year, EIMI worked with Dr. Neil Hammerschlag and the University of Miami on Tiger Shark research that was featured in Shark Week's Tiger Beach.  This time EIMI was able to produce the world's first in-field images of pregnant tiger sharks.
About E.I. Medical Imaging
Based in Loveland, Colorado E.I. Medical Imaging was founded in 1984 on the singular vision of developing state-of-the-art, portable, durable ultrasound systems to serve veterinarians and livestock producers worldwide. E.I. Medical Imaging is the only manufacturer of portable ultrasound systems engineered and developed in the United States specifically for the animal industry.  
Source: E.I. Medical Imaging
Share: