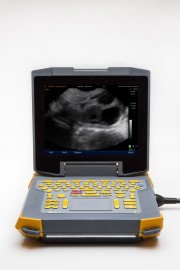 E.I. Medical Imaging introduces its latest generation of portable veterinary ultrasound, the new Ibex® EVO®, developed exclusively for animal and livestock needs. This newest innovation and technology is the latest challenger in portable ultrasound systems across all categories.
Loveland, CO, February 4, 2016 (Newswire.com) - E.I. Medical Imaging® (EIMI), a worldwide leader in portable ultrasound technology and the only U.S.-based manufacturer of portable veterinary ultrasound systems designed specifically for veterinary use, launches the new Ibex® EVO® portable ultrasound system.  EIMI has been a leader in the ultrasound industry for nearly 32 years and is very proud to offer a system more than four years in development.
 "The Ibex family of ultrasound systems and the launch of the new Ibex® EVO® is the culmination of our 32 years of customer feedback and input, and tireless research and development. E.I. Medical Imaging® is proud to introduce the EVO® as our 6th generation of ultrasound systems, providing veterinarians with the tools and information they require to be competitive in today's demanding environments. We have very high expectations for our company and the new EVO system," said Charles Maloy, president of E.I. Medical Imaging. "This new system opens opportunities for us and for our customers," says Maloy.
Developed exclusively for animal and livestock needs based on intensive engineering research and input from veterinarians and industry leaders, the new Ibex® EVO® is the newest in innovation and technology bringing the strongest new challenger in portable ultrasound across all categories. It takes the entire market to the next level of technology and sets the bar for the industry.
EVO® features new advanced imaging software with a full range of imaging modes including; B, B+M, PD, and Color. The same ruggedized Durascan® technology of its preceding Ibex® systems is included, however the new EVO® has four times the processing power of the current Ibex® platform.    The EVO® continues with the EIMI tradition of being lightweight, battery operated, and faster boot time for faster and longer uptime, customized veterinary exam presets and the ever popular sealed LED back-lit keyboard technology. Many other new features can be learned from demonstrations of the product which have begun this week by the company.
All of the transducers for the system continue to benchmark the industry in durability with a new in-house engineered connector allowing for multiple probes to be used with one system.  Kevlar reinforced and rigorous testing and design further ensure that the entire system can withstand the rigors of the toughest field use. EVO® transducers have been subjected to 1.2 million flex cycles in tests unheard of in the portable ultrasound community.
EIMI continues in its legendary service to its customers which Maloy states is the "hallmark of our business…we engineer systems specifically for veterinary use and we understand the challenges of downtime and system repair.  We have to be the best customer service company we can."  The company continues to be one of the only companies offering fast turnaround times on repairs and a free loaner program to ensure continuity of business.
For more information, contact Jim Turner, Marketing Director, at 1-866-365-6596 or visit www.eimedical.com.
E.I. Medical Imaging®, a world leader in veterinary diagnostic ultrasound for over 30 years, provides versatile, portable systems designed for use in the field.
Share: