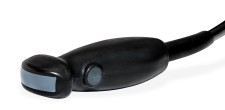 E.I. Medical Imaging introduces its latest transducer to the EVO® lineup, Developed exclusively for small animal applications, the C6E allows the veterinarian to scan to depths ranging from 3-18cm. The C6E transducer is the latest innovation from E.I. Medical Imaging designed exclusively for veterinary applications.
Loveland, CO, September 13, 2016 (Newswire.com) - E.I. Medical Imaging® (EIMI), a worldwide leader in portable ultrasound technology and the only U.S.-based manufacturer of portable veterinary ultrasound systems designed specifically for veterinary use, announced the release of the all-new C6E small animal transducer. EIMI has been a leader in the ultrasound industry for over 30 years and is very proud to release a transducer designed exclusively to fit the needs of the small animal practitioner.
"We heard from many of the small animal practitioners in the industry that they were looking for a single transducer that would allow them to complete 95% of their small animal procedures with a single probe. With the advent of the new C6E, veterinarians can perform procedures on animals ranging from the smallest dogs to St. Bernard's." said Charles Maloy, president of E.I. Medical Imaging. "It is really quite a remarkable tool," says Maloy.
Developed exclusively for animal and livestock needs based on intensive engineering research and input from veterinarians and industry leaders, the new C6E transducer was engineered exclusively for use in conjunction with EIMI's latest EVO® ultrasound system. With improved ergonomics and features, the C6E takes the entire market to the next level of technology and sets the bar for the industry.
All of the transducers for the EVO® system continue to benchmark the industry in durability with a new in-house designed connector allowing for multiple probes to be used with one system. Kevlar reinforcement with rigorous testing and design further ensure that the entire system can withstand the rigors of the toughest veterinary use. EVO® transducers have been subjected to 1.2 million flex cycles in tests unheard of in the portable ultrasound community.
For more information, contact EIMI Marketing, at 1-866-365-6596 or visit www.eimedical.com.
E.I. Medical Imaging®, a world leader in veterinary diagnostic ultrasound for over 30 years, provides versatile, portable systems designed for use in the field.
Source: E.I. Medical Imaging®
Share: