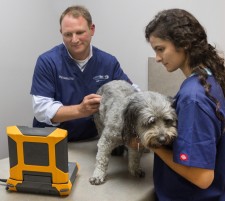 E.I. Medical Imaging introduces partnership with FASTVet for companion animal training courses.
Loveland, CO, September 30, 2016 (Newswire.com) - E.I. Medical Imaging® (EIMI), a worldwide leader in portable ultrasound technology and the only U.S.-based manufacturer of portable veterinary ultrasound systems designed specifically for veterinary use, today announced its partnership with FASTVet™​ out of San Antonio, Texas for companion animal ultrasound training.
"We are proud to partner with Greg  Lisciandro DVM, Dipl. ACVECC and Stephanie Lisciandro DVM, Dipl. ACVIM-SAIM from FASTVet.  The various FAST techniques taught by FASTVet make learning ultrasound much less intimidating to the user.  The fact is that you do not need to be an expert sonographer in order to benefit from incorporating ultrasound into the Vet's daily practice," said Charles Maloy, president of E.I. Medical Imaging. "We couldn't have found a more suitable partner for our educational needs," says Maloy.
Developed exclusively for veterinary needs based on intensive engineering research and input from veterinarians and industry leaders, E.I. Medical Imaging ultrasound products are designed for veterinary use only- in a variety of environments.  The highly ruggedized and portable equipment allows the user to take the FAST techniques to the field or anywhere Point of Care ultrasound is needed.
Based in San Antonio, Texas FASTVet provides multiple modalities of education for the various FAST techniques: AFAST℠, TFAST℠ and Vet BLUE℠​.  Students can choose from a variety of FASTVet on line ultrasound courses as well as one-day hands-on FASTVet courses at their FASTVet San Antonio Academy.   Students who have completed FASTVet training report being able to quickly incorporate the FAST techniques into their practices to provide heightened and proactive care to their patients.  "I am very excited for this partnership.  Education is so very important and we believe the ultrasound training paradigm has changed beginning with the AFAST and the targeted organ approach, TFAST and Vet BLUE," said Greg Lisciandro, DVM, Dipl. ACVECC. 
For more information, contact EIMI Marketing, at 1-866-365-6596 or visit www.eimedical.com.  
For information on FASTVet, please visit http://www.fastvet.com. 
E.I. Medical Imaging®, a world leader in veterinary diagnostic ultrasound for over 30 years, provides versatile, portable systems designed for use in all environments.
Source: E.I. Medical Imaging®
Share: