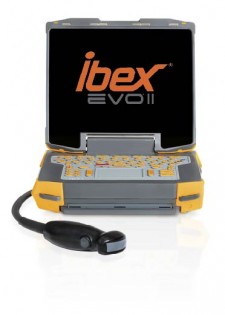 E.I. Medical Imaging, a leading US-based company manufacturing portable ultrasound systems for veterinary use, announced today the release of the Ibex® EVO® II ultrasound system.
LOVELAND, Colo., September 11, 2018 (Newswire.com) - Based on the company's commitment to continuous improvement, EIMI is pleased to announce the release of the new and improved EVO II ultrasound system.  EIMI kept all the good stuff, and added the things customers have been asking for.  
With improved image quality, features and a brighter LCD display for increased visibility in sunlight conditions, the EVO II has been released. Charles Maloy, president of E.I. Medical Imaging commented: "This latest generation EVO II builds on the successes of the original EVO and delivers better image quality and features for which customers are always asking. We are pretty excited about this release."  
The EVO II was engineered for use on all species and in the most demanding environments. From the clinic to the field, the EVO II has been designed to go wherever anyone needs it to go. The EVO II supports 10 engineering-matched transducers to handle any veterinary application.
E.I. Medical Imaging never stops engineering and innovating. In conjunction with the release of the EVO II, the company is also announcing the release of the all-new L7E-HD transducer. This new probe produces images never before seen on the EVO platform. E.I. Medical Imaging ultrasound systems have been engineered specifically for veterinary use - rugged enough to withstand the day to day rigors of a fast-paced clinical environment.  All products are proudly manufactured in Loveland, Colorado.
Source: E.I. Medical Imaging
Share: