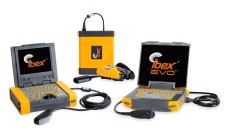 Loveland, CO, January 25, 2017 (Newswire.com) - E.I. Medical Imaging, a leading manufacturer of  portable ultrasound systems for veterinary use, announced today the addition of A&E Medical  Systems, Inc. of Chula Vista, California as the newest authorized distributor of E.I. Medical Imaging's family of products in the Southwestern territory of the United States.  A&E Medical Systems, Inc. is an experienced supplier of diagnostic ultrasound systems in the States specializing in the veterinary market and strives to exceed expectations of its customers.
Through E.I. Medical Imaging's partnership with A&E Medical Systems it continues to demonstrate their commitment to expansion in the United States. "The sign of a thriving business is its continued expansion," states E.I. Medical Imaging. "The addition of A&E Medical Systems proves our commitment to the vision of Mr. Maloy, our president.  One of his visions is to be a leader in the veterinary ultrasound industry in all possible markets. The market is doing well in this area and we want to grow with it and offer our products to the end user."  A&E Medical Systems is a company with a strong history and presence in the veterinary services industry.
EIMI president, Charles Maloy, states, "We have confidence in our choice for a distributor in the Southwest US, and I look forward to their representation of our company there.  We look for the best possible distributors that represent the values of our company, and A&E is a company we are proud to make a partner.  Their values and our values are strongly aligned--we both want to be seen as the company that strives to be the best choice for our customers."
E.I. Medical Imaging is excited to welcome A&E Medical Systems to its trusted network of distributors. "We are extremely excited for the partnership with A&E and their history of a customer-focused approach to selling," says Maloy.
A&E Medical Systems will be selling and distributing the E.I. Medical Imaging family of portable ultrasound systems and their accessories to the veterinarian market throughout the Southwest United States. The products will include the Ibex® EVO®, Ibex® Pro, and Ibex® Lite. The addition of A&E Medical Systems continues a marked movement by EIMI to continue its rise in the global marketplace.
If you have questions, feel free to contact E.I. Medical Imaging at info@eimedical.com, and their website at eimedical.com.  If you want to reach the team at A&E Medical Systems can be reached at their main offices in California or at elzabal@aol.com.
Source: E.I. Medical Imaging
Share: